Description

Slip material: 95% cotton and 5% Lycra. Made in EU.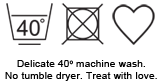 Use an environment friendly detergent and always wash your undies in a washing bag – that way they will last longer!
---

Please note:
75A + 34/36 = corresponds also to 70B
75B + 36/38 = corresponds also to 70C and 80A
75C + 38/40 = corresponds also to 70D and 80B
Length for the slip (under cup to hemline):
75A+34/36 is 51cm
75B+36/38 is 52cm
75C+38/40 is 53cm
Need more size information? Consult our size guide.
---