One of the things that I often think about is sustainability and what that actually means in my everyday living when it comes to fashion. When it comes to food the alternatives are many, but not always obvious. Fair trade and Eco labeled are easy to find – but what good does it make if tons are thrown away because it's not "fresh" the day after? Waste is still waste.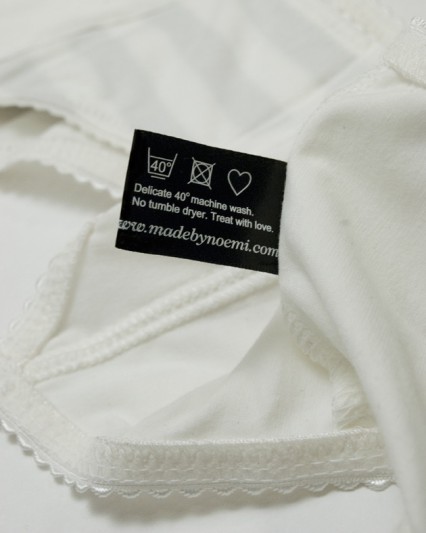 I believe in creating styles that live long lives and give the wearer pleasure during it. Creating styles that are obvious in the wardrobe and not thrown away next season. When it comes to my own wardrobe I still have, and wear, my first panties I made back in 2003.
Crazy, right? I prefer to see it as proof that my idea works.
Since Made by Noemi still is a small company with limited resources and income, I try to focus on delivering my very best of what my small muscles can. That is to create styles of lingerie that you will love and keep for years.
Because we maybe don't need more, but we sure need better lingerie that will last and not contribute to the big pile of bad panties that are thrown away.
Buy less, buy better. That is my motto for sustainable lingerie in my everyday life.
Love,
//N.
P.S. Don't forget that sustainability needs to be treated with love – read more about 'Care instructions' here.
---